Gratings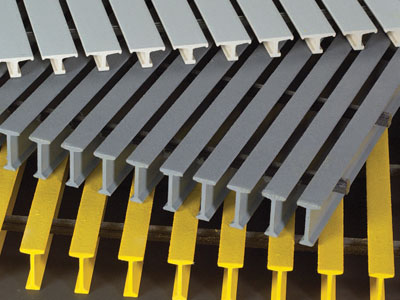 FRP Grating is also lightweight and easy to cut, making installation easy and inexpensive. ACL's W-clip provides a solid anchor point. While eliminating tripping hazards associated with higher profile fasteners.
Our FRP grating is available in a wide range of surfaces, colors and styles (mesh pattern, thickness and panel size). We have a selection of UltraGrate Fiberglass Grating for almost any structural application!
MESH PATTERNS AND THICKNESS
Different patterns and thicknesses provide different strength and performance properties for UltraGrate Fiberglass Grating.
From 1-inch thick 1×4 rectangular mesh for light duty applications to 2-inch thick 2×2 square mesh for the heaviest loads, UltraGrate Fiberglass Grating is suitable for a wide range of industrial applications. Refer to the Load Charts for more information.
SURFACE STYLES
UltraGrate Fiberglass Grating comes in two types of non-slip surfaces :
Meniscus top for normal applications
Gritted top for applications where maximum wear resistance and skid resistance is required. UltraGrate grit is embedded in the resin layer – not glued on – for greater durability.
COLORS
UltraGrate Fiberglass Grating is available in a variety of industry standard colors. Custom colors can be produced upon request.
In addition to our Fiberglass grating, we offer a complete line of standard structural pultrusions to complete your FRP project.
If you desire a completed fiberglass system, contact sales.
Molded Fiberglass Grating
UltraGrate Fiberglass Grating is a hand lay-up composite of resin and continuous glass fiber strand that is thoroughly wetted out and woven through an open mold. This method provides Lalita Fiber Molded Grating with good strength and high corrosion resistance.
UltraGrate Fiberglass Grating is an excellent alternative to metal grating where rust, corrosion, or chemical attack are problems. With proper resin selection, UltraGrate Fiberglass Grating is an economical option in a wide range of corrosive environments.
APPLICATIONS FOR MOLDED GRATING
UltraGrate Fiberglass Grating is a candidate material where there are safety concerns due to the presence of liquids and oils on the floor as well as corrosive environments where chemical resistance of the flooring material is important for long term durability.
Applications for UltraGrate Fiberglass Grating include:
Walkways
Platforms
Protective Shielding
Machinery Housings
Raised Floors
Stairways
Industries Using UltraGrate Fiberglass Grating Include:
Bottling Lines
Food Processing Plants
Waste Water Treatment Plants
Lift Stations
Commercial Aquariums
Offshore Platforms
Lube Oil Facilities
Beverage Canning Facilities
Plating Shops
Chemical Plants
Pulp and Paper Plants
Our associated Clients
Home Profile contact Send Enquiry