Round Shed / Structureless Roofing System
"SAVING UP TO 50% OF CONSTRUCTION TIME OF THE SLAB AND ROOF."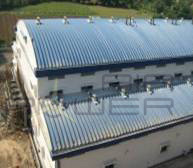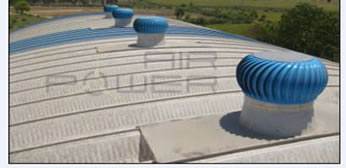 INDO-TECH Girder less shed.
1. Quick & Easy installation
2. Girder less – Wide – Clear span up to 36 Mts.
3. Savings in Structural Cost (Truss & Purlins)
4. Faster Installation enables you to start your Project earlier
5. Installation of 1000 Sq. mtrs. in just 12 hrs.
6. Design Freedom & Aesthetic value
7. Freedom from Bird Infiltration
8. The depth of corrugation in the steel adds to the Inherent strength
9. Ability to withstand Live & Dead Load
10. High Corrosion Resistance
11. Inter locked sheets prevents holes in roof – caused by bolts & hooks.
12. Using very special material alloy of 55% aluminum & 45% zinc. its give high Corrosion resistant.
WHY GO WITH INDO-TECH ROOFING.?
WE WILL PROVIDE PROPER TECHNICAL SUPPORT & SATISFACTION.
Accessories :-
Sky lights :- Sky lights made from poly carbonate/FRP sheets can be fitted on top of the roofing system to provide sufficient day light to the interiors.
"AIR-POWER" AIR VENTILATOR :- "AIR-POWER" brand air ventilator made from aluminum or stainless steel (as per requirement) run on wind energy provide fresh air and day light, removing hot air, smoke humidity & gas fumes. And create pleasant atmosphere to the interiors.
Hangers :- Hangers can be easily inserted into the roofing for suspending cable trays, false ceiling and lighting fixtures.
Our associated Clients
Home Profile contact Send Enquiry